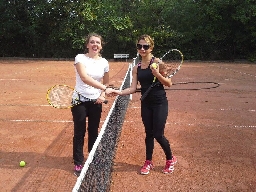 Bulgarian Ports Infrastructure Co. gained successes not only on professional field
26 Октомври 2017
Bulgarian Ports Infrastructure Co. won the cup and third place in the complex ranking in the Workers' Tournaments which took place under the auspices of the Municipality of Ruse in the period June - October 2017. More than 240 competitors from 30 Ruse companies and institutions competed in mini-football competitions, beach tennis, rope pulling, badminton, table tennis, beach volleyball and tennis. Led by the motto "Healthy spirit in a healthy body" workers from Directorate Vessel Traffic Management – Danube River to BPI Co. took active participation in the contested competition and they showed strong will, a sporting spirit and excellent team spirit.
The most successful player from BPI Co. Momchil Belchev won 3 medals in tennis, beach tennis and badminton races. Positive emotions and medals were gained by Martin Petrov – beach tennis, Boyan Rashkov – badminton, Rossitsa Russeva – tennis on the court. Martin Petrov was chosen unanimously for the most attractive and strong willed athlete in beach tennis and for the most active in organizing the sporting events was chosen Tihomir Ivanov.
The organizer of the tournaments is the Sport and health Workers Club – Ruse, with the support of the Bulgarian Workers Federation Sports and Health.