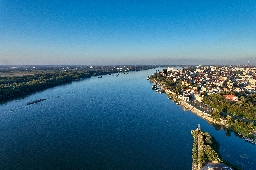 Joint Efforts and Joint Vision for the Development Danube – Black Sea Region  
25 Януари 2018
A strategic document for the development of the Danube – Black Sea region is prepared within the DBS Gateway Region project. General Vision 2040 defines the joint direction for the economic, regional and logistical development of the region that the project partners from all the Danube countries will follow, as the desired progress is only possible through joint efforts and a common vision.
The document is elaborated on the basis of the Analysis of the potential of the River Danube and the Black Sea prepared by the Bulgarian Ports Infrastructure Company (BPI Co.) based on the results of the projects such as DaHar, GIFT, INWAPO, ADB, EMPIRIC and others. It provides clear guidance for the future development of the region by presenting the mission, the key objectives, the spheres of intervention and the operational goals set by the partners. Three priorities emerged: strengthening the specific regions, strengthening the whole region as a gateway and enhancing port development.
The DBS Gateway Region project partners are firm that the road to improvement, development and modernization of water transport goes through stimulating business near ports, attracting new freight flows, turning the Danube ports into modern logistic centres using renewable energy and modern technologies. In order to make the region an attractive area for sea and inland waterway transport, it is necessary to bring the river in good navigational status and to build an internationally recognizable brand for a sustainable multimodal transport route "The Danube-Black Sea Gateway Region". It is also important to maintain high-quality infrastructure along the Danube Corridor and to build appropriate infrastructure in ports to make them international hubs.
The implementation of Port Community Systems, the establishment of high-quality connections between the Black Sea and the Danube ports, the improvement of the road and rail infrastructure in the area of ports, the modernization of the equipment and the storage facilities are among the other objectives of the project, outlined in the Strategy.
Following the motto "Together we can achieve more", the project partners believe that removing barriers to the development of water transport and sustainable development in the region will be achieved through long-term stakeholder cooperation within the so-called platform for cooperation. A Road map will also be developed to include the measures to achieve the objectives of General Vision 2040 and which will aim to make the Danube – Black Sea region an attractive gateway region for maritime and inland waterway transport.
The implementation of the project Regional and Transport Development in the Danube-Black Sea Region towards a Transnational Multiport Gateway Region /DBS Gateway Region/ is directed to improving and developing one of the main aspect of competitiveness of the Bulgarian economy – the water transport. BPI Co is actively involved in the project co-funded under the Danube Transnational Cooperation Programme Danube 2014-2020. Lead partner is the Lower Austrian Regional Government.