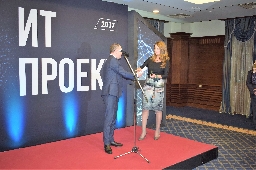 BPI Co. with another achievement in the field of IT technologies  
22 Февруари 2018
Bulgarian Ports Infrastructure Company (BPI Co.) has added another prestigious award to its professional portfolio. BPI Co. received its next distinction in the field of IT technologies – this time for the implemented modern software solution for business process management in the company.
The first prize in the category Transport and Logistics in the corporate sector of the competition IT Project of the Year 2017 was handed to Anna Natova – Director of the Project Management Directorate at the BPI Co. and manager of the distinguished project Design and Implementation of Integrated Information System (IIS) for Planning and Management of Resources in Bulgarian Ports Infrastructure Company. 'BPI Co. is always up to date with innovative technologies and is a step forward in implementing modern solutions', Ms. Natova commented at the award ceremony.
The award was presented by Deputy Minister of transport, Information Technologies and Communications Mr. Velik Zanchev. 'It is a pleasure for me to ward this high distinction to one of the leading companies in the system of MTITC', said Mr. Zanchev and wished BPI Co. team to work more and more in the direction of the high technology enter in the business.
The award ceremony for the winners of the IT Project of the Year 2017 was held on 21 February 2018 for the 14th time. Organizer of the prestigious competition, distinguishing the most successful IT solutions in Bulgaria, is newspaper Computerworld.
In the last few years, BPI Co. has implemented several large-scale IT projects, with the expansion of the company's business scope leading to the next important step forward – the deployment of an integrated information system for planning and resource management. The most powerful ERP product of SAP ERP 6.0 is implemented with the project completion. The contractor of the project is the leading company in the field of information and communication technologies STEMO.