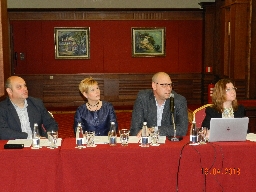 Legal obstacles to port legislation discussed under DAPhNe project
19 Април 2018
Existing legal obstacles to port legislation were discussed during the two national seminars that took place under the project Danube Ports Network (DAPhNE) on 19.04.2018 in Sofia. During the seminars organized by Bulgarian Ports Infrastructure Company (BPI Co.) the Project was presented to the stakeholders and the legislative framework applicable to the inland waterways of Bulgaria was reviewed.
The DAPhNE Project leader from BPI Co. Mr. Stoyan Hristov – Director of Branch-Territorial Directorate Port of Ruse and the project team discussed the specifics of the national legislation and examined the state aid regime applicable to the inland waterways ports of Bulgaria. The experts sought possible solutions to the existing problems and introduced the participants with their proposals for improvement of the legal framework.
Bulgarian Ports Infrastructure Company is member of international consortium "Danube Ports Network" with Lead Partner Pro Danube International, Austria. The Project implementation aims to facilitate a balanced development of the Danube Ports as eco-friendly, well accessible multimodal hubs for the transport system of the region and to turn them into buzzing economic centres functioning as catalysts for economic growth and creation of high value jobs. The Project activities are directed to improve port legislation, funding of port investments, port administration processes, port business strategies as well as port infrastructure and industrial development strategies. With the realization of the Project, the Danube Ports Network will be built, which will allow the ports to reach their full potential of buzzing economic centres.