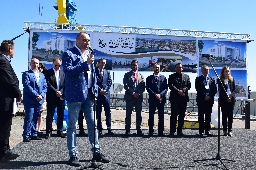 BPI Co. officially started the construction of modern Congress Centre in Burgas
01 Юни 2018


By a symbolic "first sod" and breaking a bottle of champagne, in the presence of Deputy Minister Valeri Simeonov, and the Minister of Transport, Information Technology and Communications Ivaylo Moskovski , the Director General of Bulgarian Ports Infrastructure Co. Anguel Zabourtov gave an official start to the construction of the Congress Scientific-Research Centre for Control and Exploration of the Black Sea in Burgas on May 31, 2018.

Anguel Zabourtov expressed satisfaction with the fact that after 480 days on the work site will appear the remarkable building and recall that only for several years BPI Co. has built in Burgas the emblematic buildings of the Passenger Terminal and Coastal Centre for vessel traffic management and Information service, and has carried out the modernization of Magazia 1 and turned it into a modern maritime centre of the Black Sea in Bulgaria.

Deputy Minister Valeri Simeonov expressed hope in a year and a half in the same group to participate in the ribbon-cutting ceremony of the congress centre. According to Minister Moskovski, the new building will allow the marine city, along with all other services, to offer congress tourism.

A city like Burgas with prospects and vision for the future needs exactly such building for hosting important international and local events, said the Mayor Dimitar Nikolov and gave as an example the fact that The European Maritime Day was held at Burgas Free University building, but the Congress Centre would be the best suited for conducting such significant event.

Among the official guests were the District Governor Valko Cholakov, the MP from GERB and a member of the Transport Committee in Parliament Ivan Valkov, the Managing Director of the company STRABAG EAD Johann Pölzl, President of the Association of Mediterranean Cruises ports and the Black Sea region Airam Diaz Pastor, as well as a number of representatives of the maritime industry.

The modern six-level building will be located at the north part of the eastern pier of the port terminal Burgas-East. Except as a scientific-research and control centre for the Black sea it will be used throughout the year as a venue for exhibitions, concerts, attractions and various educational events.

The project will continue to implement the concept set out in the Master Plan of the city of Burgas, in the direction of the city opening to the sea, removal of the industrial activities and restructuring of coastal industrial zones. It is also foreseen the possibility of creating a modern yacht port and a secondary urban servicing centre with landscaping. New terrains will be defined for public facilities with the provision of different kind of services, and development of recreational and fishing areas, playgrounds and sports playfields.