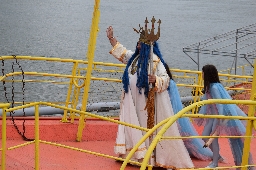 King Neptune emerges from the water depths of the Danube River in Lom
29 Юни 2018
Bulgarian Ports Infrastructure Co. celebrated the International Day of the Danube River in the town of Lom. In the presence of BPI Co. Director General Anguel Zabourtov and the Mayor of Lom Penka Penkova, more than 30 students received symbolic river baptism after demonstrating their skills in the games "catching the goldfish", "water saving", and "waterball".
Anguel Zabourtov gave a special greeting to the guests and the participants in the festivity dedicated to the emblematic river for Bulgaria. He said that this is only the beginning of the festivities in the city because this year is very special as it is forthcoming to celebrate 180 years since the establishment of Port of Lom.
"The Danube River is our destiny. Lom is inextricably linked to the great river, it is our hope for a better future" - said the Mayor Penka Penkova.
The Director of Branch TD Port of Lom to BPI Co. Rosen Borisov noted that living and working near the most beautiful river is pleasure and joy, honour and privilege but also a great responsibility, so it is important on this day to focus our attention to the importance and conservation of the river, and to unite efforts to preserve this invaluable blue treasure.
In honour of the festival, the students were poured out as a "living river" from the Amphitheatre at the beginning of the Danube Park to Pontoon No. 2 to symbolically "pour into" in the Danube River. To perform the river baptism ceremony, the Lord of the Rivers and Seas personally King Neptune and his mermaids emerged from the water depths. The witty Nase, Fearless bleak, good-natured carp, courageous John Dory, enchanting Belica and brave Catfish are some of the new names that received students from sports club "Smart feather" at High school "Dimitar Marinov", by Sports Club "Badminton" to High school "Dunavska Zemya", Kovachitsa village and the Ecology and Environmental Protection Club to the Municipality of Lom. By demonstrating separate waste collection young ecologists have called for the river and coast to be clean because conservation of the Danube must be a priority for all of us.
The festival passed with many songs and dances, a festive mood and summer emotions devoted to the International Day of the Danube River, with the aim of focusing the public on the importance of the second longest river on Europe's territory and its tributaries. An in order for the joy to be even bigger, the participants in the celebration played the traditional Danube dance.