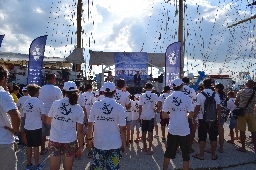 The young hopes of sailing awarded by the Director General of BPI Co. in Varna
13 Юли 2018
Specially decorated by Bulgarian Ports Infrastructure Co., the emblematic sailboat Kaliakra has become a scene with an exciting emotional atmosphere, where the official ceremony for the closure of the International Regatta Port Varna 2018 for children and youth took place. The Director General Anguel Zabourtov personally handed the awards to the winners among the youngest and most enthusiastic athletes – the young hopes of sailing in class Optimistic. The talented participants in the Regatta from Bulgaria, the Spanish island of Tenerife and the Greek island of Syros were delighted with special gifts from BPI Co.
One of the Bulgarian most prestigious regattas for children classes Optimist, Laser 4,7 and 420 with over 40 years of history this year was held with international participation under the judgeship of Evgeni Mavrodiev. The Gulf of Varna was filled with fans from 9th to 12th July 2018.
The competition included 10 clubs – eight Bulgarian, one Greek and one Spanish club, represented by a total of 77 competitors in class Optimist, 14 – in class Laser 4.7 and 14 competitors in class 420.
The Optimist sailing class is designed for the youngest sailors up to 15 years of age and up to 55 kg, these boats being most common in the world. Laser 4.7 is a faster and more manoeuvrable boat; a transition class designed for advanced children, with a larger sails competing in two Olympic disciplines. The Extreme boat 420 is driven by a crew of two people – one who navigates the boat and one who deals with the rigging ropes.
Host and organizer of the children's regatta is Yacht Club "Capt. Georgi Gorgiev – Port Varna". The sporting competition was held with the support of BPI Co.