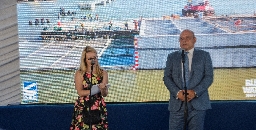 Port of Burgas benefits from the biggest private investment
24 Август 2018
Director General of the Bulgarian Ports Infrastructure Company Anguel Zabourtov was among the official guests at the opening ceremony of the new South Logistic Base on 23 August 2018 in Burgas. By constructing and commissioning of the new logistic base, which will receive, store and transship equipment for the rapid and large-scale development of the oil field in Kazahstan, BMF Port Burgas EAD has made the largest private investment in a Bulgarian port.
The Director General of BPI Co. commented that such a large investment in port infrastructure is not only a precedent for Bulgaria, but also a very prominent and valuable example by BMF Port Burgas EAD since investments in port terminal infrastructure are a sine qua non for the sustainable development of Bulgarian ports, which in turn is of key importance for the economic development of the whole country.
Anguel Zabourtov added that he was glad to accept the built facility – which, by virtue of a contract, became public state property – in the assets of the BPI Co. He wished yet another success to the largest private port operator, as well as to continue to invest in the port infrastructure in the future and to provide a good example of the successful operation of the port terminals Burgas East-2 and Burgas West.
For the construction of the new base the concessionaire carried out large-scale marine construction activities, which are a precedent in the modern history of Bulgaria. It was carried out a dredging of 350 000 cubic meters dredging mass, building of a quay wall of 120 metres (4 caissons) and a jetty of 120 metres, mounting of 9 dolphin (structures) with a pier length of 220 metres and depth of draft of 12,20 metres at a berth place and 10 hectares of concrete storage area.
The new logistic base will be involved in the realization of one of the largest logistics projects in the world for rapid and large-scale development of oil fields in Kazahstan.