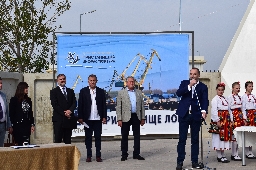 Port of Lom welcomed 180 Anniversary with a large investment from BPI Co. in a new modern freight carriageway
19 Октомври 2018
With a solemn inauguration, served by Vidin Metropolitan Danaiil, validation of a postage stamp and official cutting of the strip of the new freight carriageway in the port of Lom and the adjacent infrastructure, celebrations commemorated the 180th Anniversary of the oldest Bulgarian port, organized by Bulgarian Ports Infrastructure Company (BPI Co.) started on October 18, 2018. The Director General of BPI Co. Anguel Zabourtov gave the start of the celebration in the presence of the Mayor of Lom Penka Penkova, the District Governor of Montana region Rosen Belchev, MPs, officials and guests of the town.
Port of Lom is a focal point for the economic development of the city and the region. We have symbolically chosen the venue of the celebration to be here – at the new carriage way that we have made to improve the logistics scheme of the town and the harbour. This was what Anguel Zabourtov said and added that the industrial production and the port always go hand in hand and expects Lom to attract new production in the future because of the proximity to the port and the main commercial corridors.
The Mayor of Lom, Mrs. Penka Penkova, highly appreciated the infrastructure built by BPI Co.
Besides the new entrance to the port for light and cargo vehicles, the port already has a large parking lot, modern pavements, high-tech energy-saving lighting and a solid reinforced concrete fence. The investment form BPI Co. is 2.3 million BGN.
The Manager of the concessionaire Port Invest EOOD Rumen Popov announced that over the past 4 years the company has invested over BGN 8 million on port infrastructure, machinery and equipment, thus exceeding the amount of BGN 2 million in the concession investment commitment made to the state.
In the spirit of the celebration, the Executive Director of the Bulgarian Posts EAD Deyan Douneshki, together with Vidin Metropolitan and the Director General of BPI Co., validated a thematic postage stamp with the Port of Lom. Dounshki noted that brands related to ships, ports, rivers and seas are among the most sought by the collectors. He added that thanks to the advantage of the post stamp to travel around the world, this Anniversary will be reflected appropriately in all corners of the Earth.
Within the celebration was presented the newly published book of BPI Co 180 Years Port of Lom written by the historian-researcher Zoya Apostolova. The presentation passed with great interest and overcrowded hall, and everyone present was delighted with a gift-book. A documentary exhibition, prepared by the Historical Museum of Lom and State Archives – Montana also told for the development of the port during the years. The festive day ended with a concert and an impressive pyrotechnic-musical spectacle that illuminated the sky above Lom.