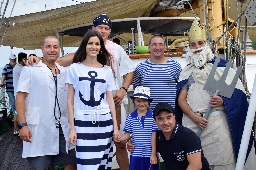 Day of the Seafarer was marked in Varna again with the support of BPI Co.
26 Юни 2019
Bulgarian Ports Infrastructure Company (BPI Co.) donates many smiles and unforgettable emotions to the small seafarers, enjoying them with a sail through the Bay of Varna with the sailing ship Kaliakra on the International Day of the Seafarer. Even the weather in Varna supported the conducting of the ritual of sea baptism or the so-called "first time seafarers welcome", which is held for another year on June 25, 2019.
The gusty rain that was pouring during the day caught its breath in order the Bay of Varna to be echoed by the joyous laughter of the kids. The children met with enthusiasm King Neptune and his ensemble, and the colourful gifts from BPI Co. contributed to their cheerful mood.
In the presence of seafarers and their relatives, Varna citizens and guests of the city, empathetic to the sea idea, the Festival continued with a concert in the courtyard of the Archaeological Museum and with awarding of the laureates at the National Contest "Trace in the Sea". The Special Prize for poetry was personally handed over by the Director General of BPI Co. Anguel Zabourtov .