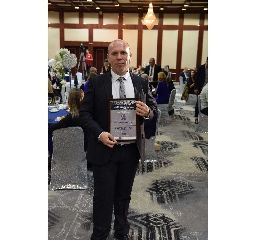 Congress Center Burgas – award-winning in a prestigious construction and investment competition
19 Юни 2020
The Congress Center of Port of Burgas, recently built by Bulgarian Ports Infrastructure Company, gained the recognition of prominent experts in the area of construction and architecture even before its official opening. The attractive building brought BPI Co. the second prize in the category of Business Construction. The National Construction and Investment Awards event took place on June 19, 2020 in Sofia concurrently with the Builders and Architects Ball.
Congress Center Burgas is yet another addition to the modern vision of Port of Burgas. The six-level building is designed by architectural studio ATM Architects with architect Ivaylo Mishev as leading designer. It is located in the northern part of the eastern breakwater at the port terminal Burgas East. It can be used throughout the year as a venue for world and national conferences, congresses, exhibitions, concerts and various educational events.
The congress center comprises two halls. One has a capacity of up to 550 seats and is furnished with audio-visual equipment and stage lighting of the highest class. The second hall has a capacity of up to 250 seats. With the construction of the Congress Centеr the city of Burgas has the opportunity to host important international events, building on its modern appearance as a dynamic port city.
The competition promotes the best practices in construction and architecture and distinguishes the most brilliant and meritorious representatives of the construction sector. The jury is composed of internationally recognized experts in the field, as well as journalists covering the construction sector. The evaluation criteria include, among others, good location, use of state-of-the-art materials and technologies in the project implementation, applied innovations, contribution to the external environment, etc.
The organizer of the prestigious event is the non-profit entity Balkan Media Association. It has a charitable cause – the campaign For the grandeur of the church, through which funds are being raised for partial renovation of St. Alexander Nevsky Cathedral.