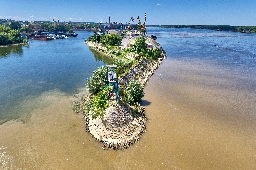 20% Growth of the Processed Loads, Reported by the Port Terminal RuseWest
31 Януари 2022
Over 210 000 tons of cargo were processed in 2021 at the Port Terminal Ruse West, operated by the Bulgarian Port Infrastructure Company. Compared to the previous 2020, this is a 20% increase.
The total revenues from port services in 2021 increased by 22% compared to 2020. The most common cargo, processed at the terminal in the past year, include metals, mineral fertilizers and cereals.
Port Terminal Ruse West, specialized in the processing of general and bulk loads, has 12 berths. The outdoor storage area of the terminal is 27 600 sq.m, and the indoor storage area – 9 696 sq.m.