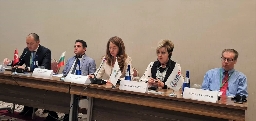 The outlooks for the development of the Black Sea ferry connections were discussed on expert level in Batumi
23 Май 2022
Anna Natova presented Varna Port's potential in the context of the development of the ferry connections in the Black Sea. Within the Bulgarian presidency of the Intergovernmental Commission TRACECA, the Director General of the Bulgarian Ports Infrastructure Company took part in an international forum, held in Batumi, Georgia on 23 May 2022 (Monday).
Anna Notova noted that both Bulgarian sea ports are well-connected to the road and rail national transport systems and the connections to the interior of the country enables the development of sea transport as a key component of modality. She emphasized that within the Black Sea region, there is a one-of-a-kind transport facility, which has been operated by the BPI Co. since 2018 – the Рort Тerminal Ferry Complex Varna.
The terminal is capable of processing two types of ferryboats, as well as two ships simultaneously. It provides access to the shortest and most cost-efficient routs for the transportation of rail and other wheeled cargo between Europe and Asia across the Black Sea. Рort Тerminal Ferry Complex Varna offers re-loading of railroad cars, trucks and other cargo loads, based on various types of technologies: railroad car – railroad car; truck – railroad car, ramp –railroad car, railroad car – ramp. The terminal offers an excellent opportunity for the development of further RO-RO connections for facing future challenges in the Black Sea region.
The development of the international transport corridor Europe – Caucasus – Asia is a strategic initiative, which aims at restoring the ancient silk road, connecting the Asian and European continents. TRACECA is an international programme, joined by 13 countries, which have signed the Basic Multilateral Agreement on International Transport for Development of the Europe – Caucasus – Asia Corridor. These are Azerbaijan, Armenia, Bulgaria, Georgia, Iran, Kazakhstan, the Kyrgyz Republic, Moldova, Romania, Tajikistan, Turkey, Uzbekistan and Ukraine. TRACECA is a platform for bringing together the interests and for finding the optimum methods of establishing mutually beneficial cooperation, as well as for the development of the economic relations, commercial and transport communications in the regions of Europe, Black Sea, Caucasus, Caspian Sea and Asia.
The conference was part of a large-scale event, dedicated to the opportunities to boost commerce along the Central Asia – European Union route across the Caspian Sea and the Black Sea ports, which took place in the period 16 May 2022 – 24 May 2022. It was attended by delegations from countries from Central Asia, Azerbaijan, Bulgaria, Georgia and Turkey.