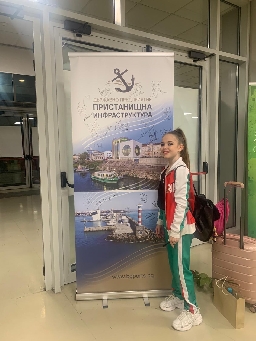 Phenomenal success of the Bulgarian Graces the world championship, organized with BPI Co.'s support
19 Септември 2022
The Bulgarian Graces won six medals, including two gold and two Olympic quotas during Bulgaria's hosting of the 39th World Rhythmic Gymnastics Championship. The world championship took place in Sofia between September 14 and 18, 2022 with the support of the Bulgarian Ports Infrastructure Company.
The spectacularly talented Stiliana Nikolova won three silver medals in hoop, clubs and ribbon. Bulgaria's young hope in rhythmic gymnastics also won bronze in the all-around and earned a quota for the 2024 Olympics in Paris.
The rhythmic gymnastics ensemble achieved a phenomenal debut and brough joy all around Bulgaria by winning the all-around world title and an Olympic quota. Zhenina Trashlieva, Rachel Stoyanov, Sofia Ivanova, Margarita Vasileva, Kamelia Petrova and Radina Tomova provided a magnificent performance of their combination of three ribbons and two balls, which won them a second gold medal.
Competitors from a total of 62 countries tested their strength, concentration, talent and artistic qualities in the extremely challenging competition. The 39th World Rhythmic Gymnastics Championship, which saw the Arena Armeec in Sofia full to the brim, was held under the aegis of the Bulgarian embroidery and its symbolical meaning.