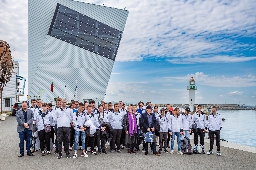 VTMIS Coastal Center Burgas opened its doors for students from the Maritime High School
25 Април 2023
New technologies and systems for improving the efficiency and safety of maritime transport in Bulgaria were presented to the students of the "St. Nikola" Vocational Secondary School of Maritime Shipping and Fishing in Burgas by experts from the Bulgarian Port Infrastructure Company. The students of the tenth, eleventh and twelfth grades, specializing in "Navigation" and "Ship Machinery and Equipment" of the Maritime School were introduced to the functionalities of the Vessel Traffic Management and Information Services (VTMIS) on 25 April 2023 (Tuesday) within the agenda of the information day dedicated to modern navigation and new technologies through OP "Transport and Transport Infrastructure" 2014-2020.
They visited one of the two operational centers for traffic management and information services for navigation on the Bulgarian Black Sea coast, built within the framework of OP Transport 2007-2013. Also known as the Tilted Towers, the two VTMIS Coastal Centers in Burgas and Varna constantly exchange data between them and concentrate information and navigation systems based on the most modern achievements of science and technology. At the VTMIS Coastal Center Burgas the students had the chance to immerse themselves in a real working day, full of dynamics and challenges, and to become direct observers of the VTMIS system's operation.
The implementation of the system has led to better control of vessel traffic and improved conditions for environmental protection. The modern information environment facilitates communication between all actors involved in the maritime transport organisation.
The information day ended with an exciting visit to the PlanetUm Science Center, located at the Marine Station, which brought the students into the world of science in a fun and interesting way.
The architectural ensemble, including the buildings of the Marine Station, the iconic Coastal Center and the new Congress Center, built by BPI Co., as well as the renovated Warehouse 1, form the urban environment of the seafront, beloved by the citizens of Burgas and guests of the city.